地 址:江苏省泰州市姜堰区娄庄镇
电 话:86-523-88691987、 88699987
传 真:86-523-88699588
总经理:徐志平
网 址:www.taiyi-pipe.com
邮 箱:taiyi@taiyi-pipe.com

  

泰州市泰怡金属网管有限公司

是套管换热器、金属软管、波纹、矩形、织物补偿器的专业制造商。企业技术力量雄厚,具有较高的开发研制能力,多年来凭着过硬的产品质量,良好的信誉和周到的售后服务赢得了用户的好评。产品依据GB/T1277-99及GB/T14525-93标准,并采用国际标准验收生产,广泛应用于石油化工、矿山金、船舶码头、电力、供热、供气管道、空调等行业。多次配套用于国家重点工程、核电站、舰艇等重要场合。我们视质量为企业生命,通过ISO9001质量体系认证,是泰州执行标准优秀企业和文明单位。
   面向新时代,我们继续弘扬"设计精、制造优、服务诚"的企业宗旨,以一流的产品质量,全新的服务理念与用户真诚合作。
   经理徐志平率全体员工随时恭候海内外朋友莅临指导,合作兴业。
   Taizhou Taiyi Metal Bellows Co.,Ltd.is a special manufacturer of metalhose,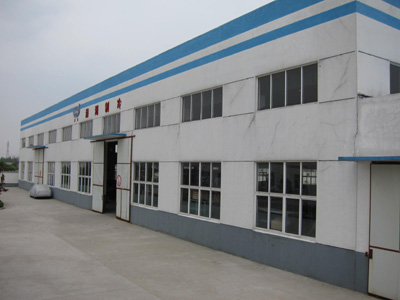 corrugation,rectangle,fabric compensation condenser
   The enterprise possesses rich technology strength,highly develop and reserch capacity,won clients'favourable comment based on a perfect mastery of product quality ,fine reputation and offer good service atfer sale for many years.Production according to standard of GB/T1277-99 and GB-T14525-93,and adopt internationalstandard to check and accept,applying widely trades for petrochemistry、mine metallurgy、shipping wharf、electric power、providing heat、providing gas piping、air-condition etc.many times complete sets of important occasion for national majorproject、nuclear electric drill、shipping etc.We regard quality as the enterprise life,passed shipping inspection、army inspection.
   Be geared to new era,we well continously develop the enterprise aim of "extract desingn,fine manufacture,sincere servce".Cooperation sincerely with our clients with the first class product quality,new service.
   Mr.Xu Zhiping, manager of the company,leads staff,await respectfully friends from throughout the country and abroad for presenting to guide at any time and cooperation.